ACCESSIBILITY
Metropolitan Perth is a leading Australian destination for business and investment, with strong economic fundamentals and a competitive property market. Consistently ranked by the Economist Intelligence Unit to be among the world's top ten most liveable cities, Perth's population has been growing at a higher rate than Australia's other capital cities in recent years.
Adjacent to picturesque Kings Park and the Swan River, and extending north to vibrant localities like Northbridge and Highgate, the suburb of Perth is filled with dynamic and exciting precincts. Residents are offered a variety of local employment, retail, recreation, transport and entertainment options. Furthermore, the inner city's culture and history are celebrated with the preservation of many heritage-listed buildings from eras past.
---
INFRASTRUCTURE INVESTMENT
Perth City Link
City Link, one of Australia's largest transit oriented developments, will comprise approximately 1,900 dwellings, 244,000 sqm of commercial space and extensive public open space upon completiovn (staged from 2013). Government investment of $1.3 billion will be met with $4 billion of private sector investment.
Chinatown
The Metropolitan Redevelopment Authority is investing $2 million in Northbridge's Chinatown to enhance its vitality and character. Works will include public art, colourful entry statements, landscaping and general laneway improvements. Queen Street will ultimately lead directly to Chinatown, via Perth City Link.
Elizabeth Quay
Elizabeth Quay will comprise approximately 800 apartments, 400 hotel rooms, 225,000 sqm of commercial space and an attractive Swan River inlet. Completion is staged from late 2015. In addition to $440 million in government investment, the private sector is investing $2.2 billion in the precinct.
New Museum
The $428 million new Museum (completion 2020) will allow curators to present innovative and contemporary displays. Located within the Perth Cultural Centre, the project includes a new building and refurbished heritage edifices. Expanded floor space will enable more international exhibitions to be accommodated.
RESIDENTIAL MARKET INSIGHTS
RENTAL ANALYSIS
Apartment investors in Inner Perth are obtaining attractive returns.
Over the 12 months to June 2015, the median weekly asking rent for units in Perth (suburb) was $520. This was on a par with the Perth municipality and was 24% higher than the $420 recorded for the metropolitan area.
Urbis' analysis of REIWA data shows that as at October 2015, for Catchment apartments (both furnished and unfurnished) advertised for rent, premiums of 14% for one bedroom stock and 2.0% for two bedroom apartments were recorded compared with older, established apartments (completed pre-2010). These price differences highlight the value attached to location, lifestyle and quality finishes by potential tenants.
From a rental return perspective, Perth (suburb) recorded an indicative gross unit rental yield of 5.8% over the 12 months to June 2015. This result outperformed the City of Perth (5.3%), metropolitan Perth (5.0%) and metropolitan Sydney (4.2%). It illustrates that although rents have softened, investors are still obtaining attractive returns from apartments in central Perth.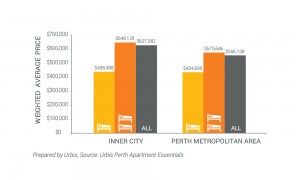 RESIDENTIAL MARKET INSIGHTS
SALES ANALYSIS
Two bedroom apartments are the Inner City's dominant apartment product type
Units in the suburb of Perth recorded a median sale price of $462,500 over the 12 months to June 2015. This reflects average annual growth of 3.6% over the last decade. The result was also 6.3% higher than the equivalent for metropolitan Perth ($435,000). On average, the hold period for units across the metropolitan area (8.5 years) is 25% longer than that for the suburb of Perth (6.8 years).
Two bedroom apartments are the dominant apartment type within Perth's Inner City (defined as the suburbs of Perth, East Perth, West Perth, Northbridge and Highgate). Urbis' June 2015 Apartment Essentials report on the off-plan market indicates that this product type accounted for 50% of all Inner City apartment sales between April and June 2015. At 34%, one bedroom apartments were the second largest seller. The June 2015 quarter weighted average sale price of Inner City apartments (all configurations combined) was $627,982, a figure 13% higher than metropolitan Perth's average.
The Perth Catchment's liveability and vibrancy will be further enhanced by major local redevelopment and infrastructure projects including Perth City Link, Elizabeth Quay, Chinatown and Northbridge's new Museum. In addition, the private sector is introducing several exciting hotel brands (COMO, Westin, Ritz-Carlton, DoubleTree by Hilton, InterContinental) to Inner Perth.